Members Updates
2018/08/27: IABM AGM, September 4th, Budapest
The 21st Annual General Meeting of the International Association of Broadcast Meteorology (IABM) will be held on Tuesday September 4th, 2018, at the Corvinus University of Budapest, Hungary. It will be held during the EMS Annual Meeting & European Conference on Applied Climatology (ECAC).
The full agenda for the IABM AGM is available here.
---
2018/08/24: New Book Available for Review by CMOS Members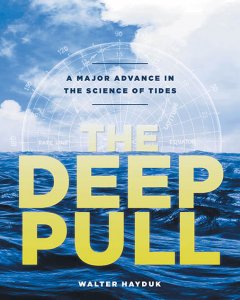 The Deep Pull: A Major Advance in the Science of Ocean Tides, 2018. By Walter Hayduk, FriesenPress, ISBN 9781525518706 (hardcover) $35.49, 9781525518713 (softcover) $27.49, 9781525517820 (eBook) $11.99, 251 pages. More information available at www.walterhayduk.com. (2018-7)
Other recent titles still available for review by a CMOS member:
Eustasy, High-Frequency Sea-Level Cycles and Habitat Heterogeneity, 2017. By Mu Ramkumar and David Menier, Elsevier Inc, ISBN 978-0-12-812720-9, Paperback, 102 pages, US$60 (2017-3)
Minding the Weather: How Expert Forecasters Think, 2017. By Robert R. Hoffman, Daphne S. LaDue, H. Michael Mogil, Paul J. Roebber, and Gregory Trafton, The MIT Press, ISBN 978-0-262-03606-1, Hardcover, 469 pages, $66.69 (2017-4)
Risk Modelling for Hazards and Disasters, 2017. By Gero Michel, Elsevier, ISBN 9780128040713, paperback, 338 pages, US$100.00 (2017-5)
Introduction to Satellite Remote Sensing; Atmosphere, Ocean and Land Applications, 2017. By William Emery and Adriano Camps, Elsevier, ISBN 9780128092545, 860 pages, US$130.00 (2017-6)
Remote Sensing of Aerosols, Clouds and Precipitation, 2017. By Tanvir Islam, Yongxiang Hu, Alexander Kokhanovsky and Jun Wang, Elsevier, ISBN 9780128104378, 364 pages, US$120.00 (2017-7)
Mixed-Phase Clouds: Observations and Modeling, 2017. By Constantin Andronache, Elsevier, ISBN 9780128105498, 300 pages, US$89.95 (2017-8)
Synoptic Analysis and Forecasting, An Introductory Toolkit, 2017. By Shawn Milrad, Elsevier, ISBN 9780128092477, 246 pages, US$125.00 (2018-1)
Ice Caves, 2017. Edited by Aurel Persoiu, Elsevier, ISBN 9780128117392, 752 pages, $225.00 (2018-2)
Sea Ice Analysis and Forecasting: Towards an Increased Reliance on Automated Prediction Systems, 2017. Edited by Tom Carrieres, Mark Buehner, Jean-François Lemieux and Leif Toudal Pedersen, Cambridge University Press, ISBN 9781108417426, 236 pages, $143.95 (2018-3)
Rainbows: Nature and Culture, 2018. By Daniel MacCannell, The University of Chicago Press and Reaktion Books Ltd, ISBN 9781780239200, 208 pages, US$24.95 (2018-4)
Verner Suomi: The Life and Work of the Founder of Satellite Meteorology, 2018. By John M. Lewis, The University of Chicago Press and the American Meteorological Society, ISBN 9781944970222, paperback,168 pages, US$30.00. (2018-5)
Never reviewed a book before? No problem! Check out some of these past reviews for ideas: Weather in the Courtroom; Convenient Mistruths: A Novel of Intrigue, Danger and Global Warming; Weather, A Very Short Introduction; Nonlinear and Stochastic Climate Dynamics.
If you a review a book it is yours to keep! Contact the Editor to get involved.
---
2018/08/23: CMOS Gets Tweeting with Christine Leclerc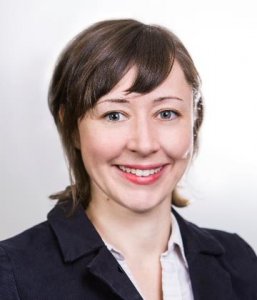 Please welcome our new Twitter volunteer, Christine Leclerc.
Christine holds a certificate in Web Design from a US college and an MFA in Creative Writing from UBC. Previously, she served as a Communications Director in the non-profit sector and currently volunteers as Treasurer with the student-led sustainability leadership non-profit Embark and as a Member-at-Large on the board of Sierra Club BC. Christine is lifelong learner who is fascinated by environmental issues and is studying Physical Geography at SFU to enter a career in climate science. If you're tweeting about meteorology, oceanography, or a related topic that may be of interest to the CMOS-SCMO membership, don't forget to tag us using the @CMOS_SCMO Twitter handle so Christine can retweet you!
Many thanks to Kevin Bowley for all of his work as Tweet Master these past few years, and best of luck to him in his new role at Penn State University
---
2018/08/22: Weather Enterprise Conference, Oct 11-12, Amsterdam

The Global Weather Enterprise will be hosting a two-day Weather Enterprise conference in parallel with this year's CIMO TECO-2018, which is being held alongside Meteorological Technology World Expo 2018 on October 9-11, in Amsterdam. The conference, which will be held on October 11-12, has been organized by the WMO in cooperation with the World Bank, GFDRR and the Association of HydroMeteorological Equipment Industry (HMEI). It will focus on two key themes: data and business models. More on the GWE in a recent article in Meteorological Technology International.
---
2018/07/20: Toronto Takes the Torch: Meet Your New CMOS Executive Committee Volunteers
CMOS has an extremely active volunteer base in the 14 centres across the country. Every three years members of the CMOS Executive Committee change centres. 2018 marks the first year with the Executive Committee under the leadership of members from the Toronto Centre, Paul Kushner, Kimberly Strong, Amir Shabbar, Fred Conway and Alanna MacKenzie. They take over roles that were successfully occupied by members of the Ottawa Centre. I want to extend a heartfelt thank you to Fiona Robertson (Corresponding Secretary), Marie-France Gauthier (Recording Secretary), Boumy Sayavong (Treasurer), Wayne Richardson (Past-President), Martin Taillefer (Past-President) and Martha Anderson (Past-President) for their tremendous work ethic and dedication to the society.
Gordon Griffith, P.Eng., ing., FEC
CMOS Executive Director
Directeur général, SCMO
Paul Kushner, President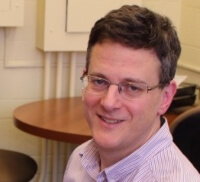 Paul has been at the Department of Physics at the University of Toronto since 2004. He is the principal investigator of the Canadian Sea Ice and Snow Evolution Network (CanSISE,www.cansise.ca). Before joining the faculty at the University of Toronto, he was a research scientist in the U.S. National Oceanographic and Atmospheric Administration in Princeton NJ, and a lecturer in the Dept. of Geosciences at Princeton University.
Paul sees the Society's committed and hard-working community of proactive volunteers across Canada. As a non-profit society CMOS could not exist, and thrive, without the dedication of so many volunteers, and he feels it is a great privilege to work alongside them.
Kimberly Strong, Vice-President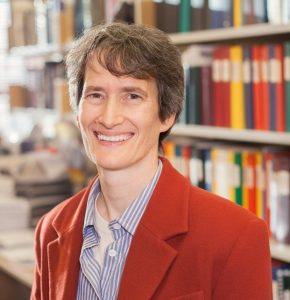 Kimberly Strong has been a Physics Professor at the University of Toronto since 1996. She has just completed a five-year term as Director of the School of the Environment, and is the incoming Chair of the Physics Department. She is the Deputy PI and a Theme Leader for the Probing the Atmosphere of the High Arctic network. She is also the founder of the University of Toronto Atmospheric Observatory, a Co-I on the ACE and Odin satellite missions, and recently completed six years as Director of the NSERC CREATE Training Program in Arctic Atmospheric Science.
Kim has been a CMOS Member for 22 years, was a former Chair of the Prizes and Awards Committee and a former Councillor-at-large, and has also been involved in CMOS through its congresses and publications. She sees CMOS as being vital to the promotion of atmospheric and oceanic science in Canada, and is pleased to have the opportunity to contribute to this effort as a new member of the Executive.
Fred Conway, Recording Secretary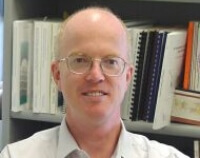 Fred retired from Environment Canada almost ten years ago, but has maintained his interest in meteorology and CMOS.
He was glad to offer his services to the incoming Toronto executive of CMOS, in the same role he filled with an earlier Toronto executive in the 1990's.
It's a pleasure for him to see old familiar faces and to meet new people interested in such an interesting and important field, which sadly continues to be under pressure from so many directions.
Alanna MacKenzie, Corresponding Secretary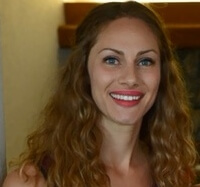 Alanna has worked in municipal government for over 6 years and currently spends her working hours at the City of Vaughan in the Policy Planning and Environmental Sustainability Department, helping to create an environmentally sustainable and climate resilient community. She graduated from the University of Guelph with a Bachelor of Science in Environmental Science and a major in Earth and Atmospheric Science. Alanna also holds a Certificate of Meteorology from York University.
Alanna really enjoyed her experience volunteering for the 2017 Toronto Congress as the Social Program Lead so she decided to give the Executive Committee a try. Volunteering for CMOS allows her to stay connected to the world of meteorology and meet like-minded individuals. She is always on the search for opportunities for learning and development.
Amir Shabbar, Treasurer, CMOS Executive Committee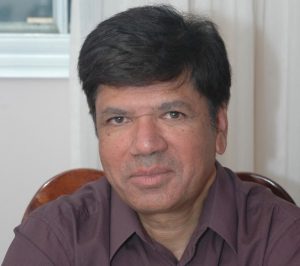 A graduate of the University of Toronto in meteorology, Amir has carried out research in climate variability and prediction for nearly 30 years at Environment and Climate Change Canada. Amir's specialty is in large-scale atmospheric and oceanic teleconnection as they affect the Canadian climate. Amir's research investigation of the El Nino-Southern Oscillation phenomenon forms the basis of the understanding of the impact of ENSO on the Canadian climate. He was awarded the 2006 Andrew Thomson prize in applied meteorology by the Canadian Meteorological and Oceanographic Society.
By volunteering for CMOS, Amir aims to promote meteorology in Canada, especially among the university and high school students.
---
2018/07/10: CMOS Seeks Social Media Volunteer

The Society is seeking a volunteer to support the development and management of our various social media outlets. At the moment we are vastly underusing these resources, so there is much opportunity here to really have an impact on how the messages of our Society and its members reach the world.
What is expected? Whatever you can give! We would welcome fresh ideas, and whatever level of time and energy you can dedicate to this task. The minimum expectation is to agree to manage our Twitter feed, which means at the moment posting a tweet at the request of one of our executive or council members, just a few times a month.
Who can apply? Ideally you are a CMOS member, or would like to be, with an interest in, and knowledge of, some area related to CMOS' activities (Canadian climate, ocean, and weather science).
What's in it for you? CMOS is Canada's non-profit umbrella organization for researchers and professionals working in the fields of oceanography, climatology, and meteorology. With almost 1000 members from across the academic, government and industry sectors, you will have access to a great network of knowledge and expertise. Our Society has been around for more than half a century, and over the past few years we have really been looking at how we can have an even greater positive impact on our changing planet. So if you are passionate about supporting positive environmental change, this is the place for you!
How to apply? Contact the Executive Director, Gordon Griffith. Let him know who you are and why you are interested!
---
2018/06/19: Call for nominations of experts for the IPCC Task Group on Data Support for Climate Change Assessments (TG-Data)

This is a call for nominations of Canadian experts to serve on the Intergovernmental Panel on Climate Change (IPCC) Task Group on Data Support for Climate Change Assessments (TG-Data). Nominations are being solicited for experts to serve as TG-Data Co-Chairs as well as members of the Task Group.
The purpose of TG-Data is to facilitate the availability and use of climate change related data and scenarios in support of the work programme of the IPCC, and to provide curation, transparency, traceability and stability of data and scenarios related to the reports of the IPCC.
At the 47th Session of the IPCC (March 2018), the IPCC re-named the Task Group on Data and Scenario Support for Impact and Climate Analysis (TGICA) to the Task Group on Data Support for Climate Change Assessments (TG-Data), and adopted new Terms of Reference (TORs) for the TG-Data and guidance for the IPCC Data Distribution Centre (DDC).
Application Instructions: Please submit the attached nomination form and a Curriculum Vitae to the IPCC Secretariat for Canada (ec.giec-ipcc.ec@canada.ca) by July 17, 2018. Members of the TG-Data will be selected by the IPCC Bureau and will be notified directly by the IPCC.
Please do not hesitate to contact the IPCC Secretariat for Canada if you have any questions.
Jaclyn Paterson
IPCC Secretariat for Canada
Science & Technology Branch
Environment and Climate Change Canada
Government of Canada
ec.giec-ipcc.ec@canada.ca
---