Advancing Canadian Researcher Involvement in the UN Decade of Ocean Science for Sustainable Development: Town Hall Outcomes form December 3, 2021
– By Alexa Goodman –
Friday, December 3, 2021: An interdisciplinary and intergenerational group of 40 Canadian marine researchers came together for a town hall to sketch an actionable path forward towards collaboration under the UN Decade of Ocean Science for Sustainable Development. The town hall was co-hosted by MEOPAR, CMOS, CNC-SCOR and UQAR, with support from ArcticNet, ASLO, Québec Océan, Réseau Quebec Maritime, and the Tula Foundation/Hakai Insititute, all of which are part of the consortium of organizations initiating the United Nations Decade of Ocean Sciences for Sustainable Development Community of Practice (CoP).
The focus of the CoP is on ocean science (natural and social) and will work with other over-arching organizations with complementary mandates in supporting UN Decade initiatives in Canada. The CoP offers support for idea development, and membership will be fully open to institutions, University-based research centres, industry organizations as well as to individual researchers, including Early Career Researchers (ECRs) (e.g., students, postdocs), and community researchers. Specific activities of this CoP will be decided by its membership and will focus on organization, communication and action. If you're interested in becoming a member of the CoP, and/or staying up to date on their activities, you can add your email to the mailing list.
What is the UN Decade of Ocean Science for Sustainable Development?
The United Nations declared 2021 to 2030 as the Decade of Ocean Science for Sustainable Development. With the mission of 'transformative ocean science solutions for sustainable development, connecting people and our ocean', the Decade provides a common framework to ensure that ocean science can fully support individual countries' efforts to achieve the UN's 2030 Agenda for Sustainable Development.
The Decade is a 'once in a lifetime' opportunity to create a new foundation, across the science-policy interface, to strengthen the management of our ocean and coastlines for future generations. The Decade requires engagement with scientists, governments, academics, policymakers, businesses, industry, indigenous communities, and civil society to stimulate new ideas, solutions, partnerships, and activities. The town hall marked the first step in bringing together Canadian marine researchers wanting to work collaboratively on proposing applied research related decade activities and actions for Ocean Decade Endorsement later in 2022.
What did we learn from the Town Hall?
During the session, participants were invited to share their ideas and perspectives, highlighting how Canadian researchers can collaborate on existing initiatives and begin to develop our own. The conversation centred on the current need for improved communication around UN Decade activities, international collaboration and interdisciplinary and intersectional projects and programmes that incorporate health, natural and social sciences at a national scale. Emphasis was made on using bottom-up approaches to address community needs, especially with respect to climate change.
As participants pointed out, Canada has taken leadership in indigenous engagement, involvement of early career ocean professionals (ECOPs), and incorporating equity, diversity, inclusion and accessibility (EDIA) into research and management. These principles should and will transcend into research projects and actions submitted for endorsement, in addition to all facets of the CoP, where Canada set an example for other nations at an international scale by taking leadership on endorsed actions.
Where do we go from here?
One of the first steps: Improving access to information. There is a clear need for centralizing information about individuals and groups working on UN Decade Actions as mandated in their strategic plans, plus an inventory of UN Decade events and activities. This information needs to be made accessible and as clearly as possible to improve knowledge mobilization, and connect a broader range of stakeholders to ensure interdisciplinary collaboration. Once the CoP is officially enacted in early 2022, their research assistant will be conducting an ongoing inventory review and will share the results in a variety of ways including a webpage, slack channel and mailing list.
In terms of developing new initiatives for Ocean Decade Endorsement in 2022, the group discussed focusing on an all-encompassing interdisciplinary and intersectional programme to address climate action in Canada, with a public and indigenous engagement component and international partnerships. This idea will be flushed out during the next Town Hall at MEOPAR's Annual Scientific Meeting on Thursday, February 3, 2022, from 1-2 PM ADT. If you're interested in participating and would like to stay up to date with the Community of Practice, be sure to sign up for the mailing list.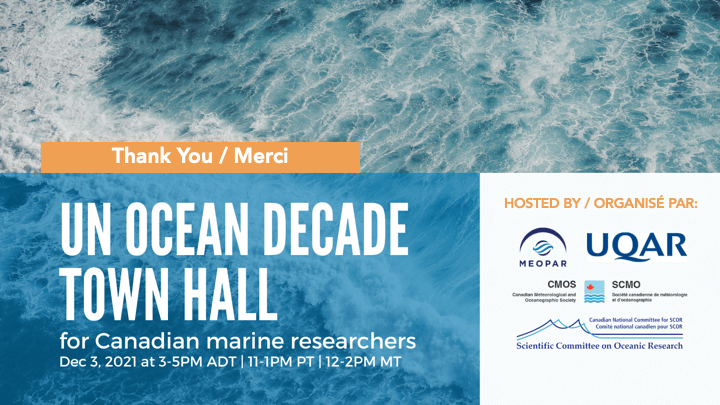 ---
Alexa Goodman (she/they) is a marine manager passionate about doing good for our planet and its people. They joined the MEOPAR team in May 2021 as Training Program Manager to equip the next generation of marine researchers with the knowledge and tools needed to excel in their careers. Alexa is a scientist with a background in marine biology and environmental sustainability, and is an environmental justice activist, lover of the ocean, and a driving force in managing abandoned, lost, and discarded fishing gear, also called 'ghost gear'. They've been a Sustainable Oceans Alliance Youth Leader since 2018 and have continued making waves of change since!
Canadian contribution, Ocean decade, Town Hall, UN Decade of the Ocean