The 55th CMOS Congress Update: Online from Victoria, BC
Climate Change Risk Resilience Response, 31 May – 11 June
Congress 2021 will be presented online from May 31 to June 11, 2021. To facilitate sharing "live" presentations across the five time zones within Canada, the core scientific program activities will be provided from 11:30 AM to 4:00 PM Eastern Time (8:30 AM to 1:00 PM Pacific Time) each day. A Welcome Session for each day will start at 11:00 AM and on some days special events, involving networking and social interactions will continue until 6:00 PM Eastern Time.
Response to The Call for Scientific Papers, which has just closed, resulted in a very large response of nearly 440 abstracts. This response represents the largest number of papers received for a CMOS Congress over the past several years. A detailed Scientific Program is now being prepared by Ken Denman, Scientific Program Chair, which will be posted within the next few weeks. The program will feature over 75 individual scientific sessions for Oral Papers, with five papers to be presented within 90 minute time slots along with time for questions and answers. Up to four scientific sessions will be presented concurrently in each time slot, with two such time slots each day over the 10 weekdays from May 31 to June 11, 2021. About 100 poster papers will also be presented, which will be all be available online at the start of the Congress, and brief oral presentations will be made, in two 90 minute time slots on May 31 and June 2 along with time for questions and answers to the presenters.
Congress 2021 will feature eight Plenary Speakers (May 31-June 3; June 7-10):
Andrew Weaver, Professor, U. Victoria and Former Leader of the BC Green Party, "Title TBA".
Mark Jaccard, Professor, Simon Fraser University, "Economics of addressing climate change"
Diane Campbell, Assistant Deputy Minister, Meteorological Service of Canada (MSC), ECCC, "Weather Services in Canada: our history, our future"
Lisa Loseto, Research Scientist, Arctic Aquatic Research Division, DFO, "What can we learn about changing oceans and adaptation through the lense of Beluga whales".
Shawn Marshall, Professor, U. Calgary, and Science Advisor to ECCC, "Title TBA".
Paul Snelgrove, Professor, Memorial University, Science Advisor to DFO, "Title TBA".
Johanna Wagstaffe, CBC Meteorologist, Vancouver, "Title TBA".
Erin Bertrand, Associate Professor, Dalhousie University, "Title TBA".
The titles and abstracts for each plenary talk will be announced soon.
The Public Speaker Lecture will be presented on Wed., June 2 by Gavin Schmidt, Director of NASA's Goddard Institute for Space Studies in New York, and recently appointed as the NASA Senior Climate Advisor to the White House. Dr. Schmidt will speak on "Can climate modeling keep up with climate change?"
Congress 2021 will celebrate 150 Years of Weather Services in Canada through Symposium events being organized by MSC/ECCC with the Congress,

Congress 2021 is presently signing up Sponsors and Exhibitors as part of our event. These organizations will be active participants in the Congress with messaging and interactive tools to interact with participants. To learn more about these opportunities, please contact Mr. Oscar Koren (okoren@sympatico.ca) to join our growing list of exhibitors and sponsors. "Early Bird" discounts apply until March 15, 2021.
An active program of social and networking events will be part of Congress 2021. The events will include Student Activities, an Awards Ceremony, social networking activities during breaks in the Congress, supported by messaging and interactive tools provided for all participants.
Registration for Congress 2021 will open on-line in mid-March. The low registration fees provide great value to all participants: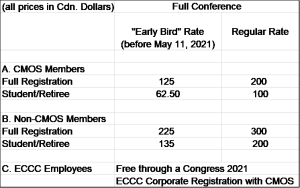 For More Information, please contact:
David Fissel, Local Arrangements Committee Chair (dfissel@aslenv.com)
Matthew Asplin, Local Arrangements Committee Vice-Chair (masplin@aslenv.com)
Ken Denman, Scientific Programme Committee Chair (denmank@uvic.ca)