CIC National Capital (Ottawa): A Conversation On Climate Change With Dr. Gordon McBean (Online Event) Nov 16 5pm
November 16th at 5pm EST to 6pm EST Online Event – information below on registering
A Conversation On Climate Change With Dr. Gordon McBean, The Co-Recipient Of 2007 Nobel Peace Prize (Free Online Event)
The CIC National Capital Branch is pleased to present a keynote address on climate change with Professor Gordon McBean, a distinguished scientist and the co-recipient of the 2007 Nobel Peace Prize, a member of the Order of Canada, and an extraordinary educator.
Elizabeth Kingston, President of the CIC National Capital Branch will deliver the opening and closing remarks, and Jerome Bilodeau, CIC National Capital Branch board member will moderate this webinar.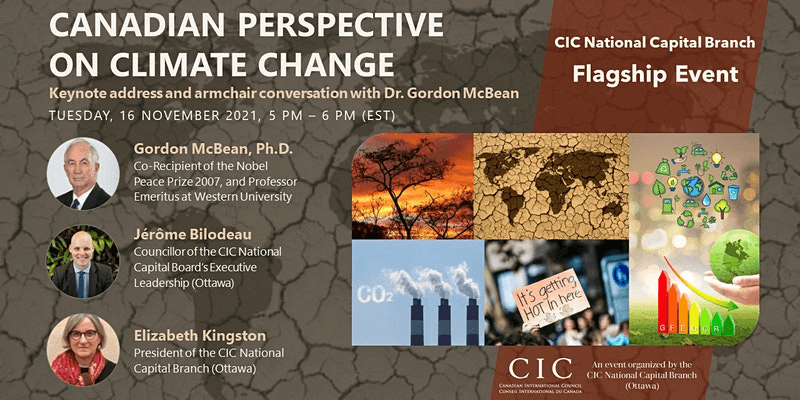 Overview:
As the very recent IPCC report states, human activity is changing the climate in unprecedented and sometimes irreversible ways. The UN Secretary General called the report "code red for humanity". The IPCC report warns of increasingly extreme heatwaves, droughts and flooding, and a key temperature limit being broken in just over a decade. A very recent study by University College London (UK) (Sept 2021) has estimated that the economic cost of climate change could be six times higher than previously thought. There is a need for strong actions to reduce emissions to reduce the rate of warming. There is also a strong need for actions to reduce the vulnerability of our communities – to build climate-resilient communities to reduce the impacts of the warming climate. The issues of emissions reduction and reducing vulnerability need to be coordinated. This presentation will present the new scientific findings and then discuss the climate change impacts and actions that can be taken to reduce impacts.