Climate in the Age of Empire: Weather Observers in Colonial Canada
– Review by Richard Leduc, Ph.D., AirMet Science Inc., rleduc@airmetscience.com –
By Victoria C. Slonosky, Published by the American Meteorological Society, paperback, 288 pages, ISBN 9781944970208, $45.00
The material in this book is abundant. I have read many sections of the book and each is very detailed and contains many anecdotes, facts, and examples that supplement the topics covered and are tied to historical facts. Dr. J. F. Gaultier's contribution to the early days of the colony is impressive, and Slonosky's book shines in highlighting it, and the contribution of Smallwood, McCord and many others. The author also introduces the issue of climate change that preoccupied these pioneers, namely the "improvement" of climate following deforestation. The final chapters address derived observations and specific seasons, and are full of information (agronomic indicators, frost dates, ship's arrival) and details that go back to the colony. The work required must have been colossal. Adding biographical data was an excellent idea and it shows these people's contribution in a wide scientific and historical context. The illustrations, all interesting, are mostly found in the middle of the book (figures of the last two chapters excepted). They include maps, document excerpts, portrait paintings, sketches, photos, notes. In examining them carefully, one can appreciate their many details.
The main conclusion: this book is a remarkable piece of work. The subject is treated skilfully and the documentation is very detailed, all done within a fascinating historical context. Moreover, any book published by the AMS immediately vouches for the very high quality of its content.
I have felt, throughout her work, the author's appreciation of all those who were there before us and whose efforts have helped build Canadian meteorology to what it is today. A sequel to this chronicle would certainly be welcome.
*Note: For all "What's New" articles, the policy of the CMOS Bulletin is to print the article in the language (English or French) in which it was written, providing a summary in the alternate language.
---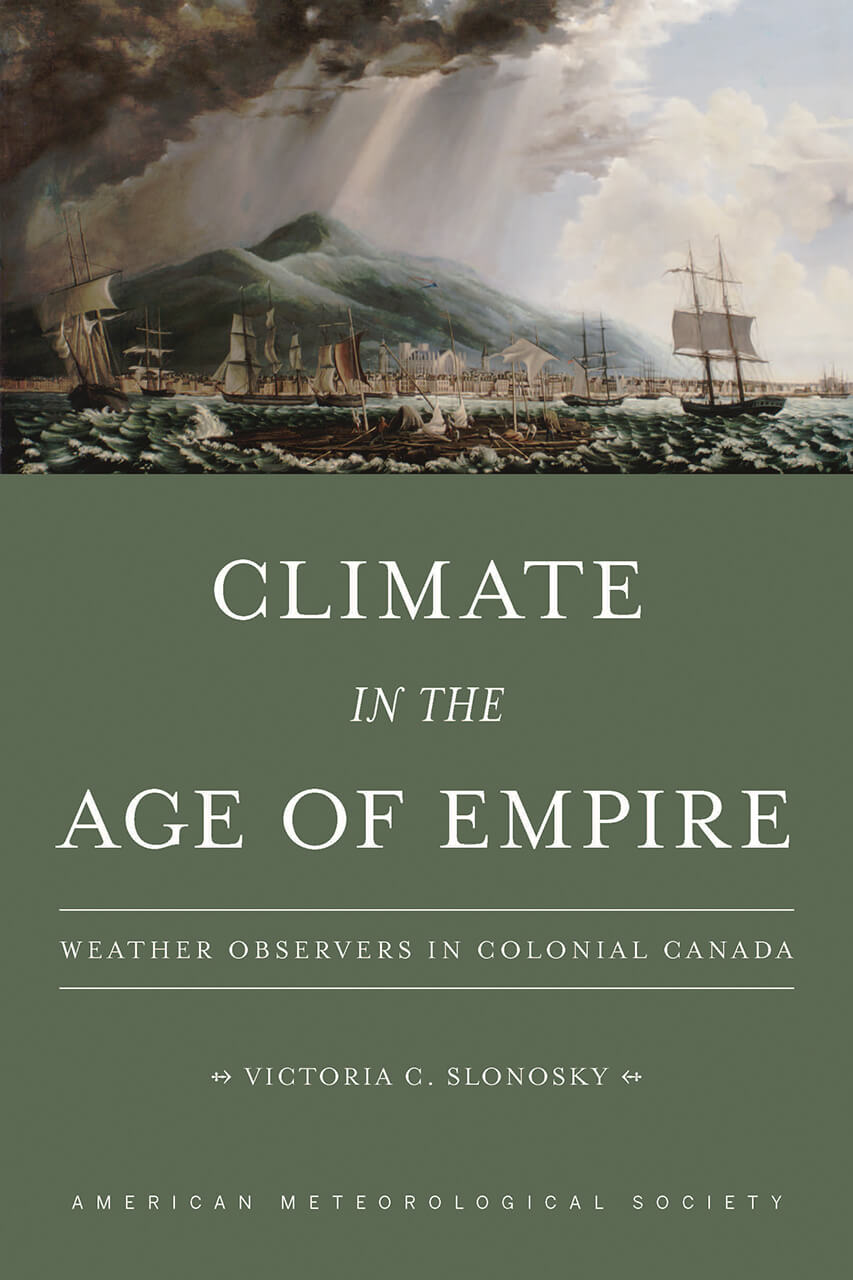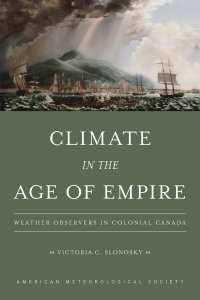 Débutons tout suite par le constat principal: cet ouvrage est magnifique. Quel magnifique travail, un sujet traité de main de maître, une documentation des plus fouillée, le tout dans un contexte historique fascinant. En plus, une monographie publiée par l'AMS assure d'emblée la très haute qualité du contenu.
J'ai plusieurs livres sur l'histoire de la météorologie dans ma bibliothèque, comme par exemple celui de Khrgian (des plus étonnants), celui du regretté Morley Thomas (personnage impressionnant que j'ai connu à mes débuts) avec son " The Beginnings of Canadian Meteorology ", Fiero, Frisinger, Middeleton et plusieurs autres touchant des aspects sociaux ou culturels de la météorologie et du climat au Québec. Je ne suis pas un historien mais je crois que l'ouvrage de Mme. Slonosky est un ajout significatif dans l'historique du développement de la météorologie au Canada.
La couverture, une peinture illustrant une vue de Montréal autour de 1840, puis la première page qui est une carte de la ville de Québec vers 1822 et finalement les dernières pages qui sont une carte de la ville de Montréal de 1853 nous ramènent dans ce passé historique. Le ton est donné.
L'ouvrage comprend deux parties. La première s'intitule "The Landscape: Scientists, Practices and Theories" avec les chapitres suivant 1: "Territory, Networks, and Tools", 2: "Dr. Jean-François Gaultier: New France's Climatologist", 3: "Clearing and Cultivation: Eighteenth-Century Climate Improvement Theory", 4: "British-American Weather Observers to 1830", 5: "McCord and the Montreal Natural History Society", 6: "Nineteenth-Century Scientists Question Climate Amelioration"; pour la seconde partie "Meteorology Takes Shape" on a 7: "Meteorology and the Military", 8: "The Magnetic Cruisade and the Founding of the Toronto Observatory", 9: "Medical Meteorology", 10: "The Establishment of the Meteorological Service of Canada", 11: "The McGill Observatory and the Professionnalization of Meteorology", 12: "What Do Three Centuries of Observations Tell US?", 13: "Extraordinary Seasons", et finalement une section "Biographical Sketches" et un index. À la fin de chaque chapitre on retrouve une liste de références qui me semble exhaustive. Au début, outre la Table des matières, il y a une liste des illustrations, une Préface et des Remerciements. Le tout est documenté dans les moindres détails.
Les illustrations, toutes intéressantes, sont regroupées au centre du livre (outre les figures des deux derniers chapitres); il y a des cartes, des extraits de documents, des portraits (peinture), croquis, photos, notes et il est des plus intéressant de les examiner avec soin pour y retrouver nombre de détails. J'ai bien aimé les photos de A. Spark, du Dr. Smallwod et autres, de l'intérieur de l'Observatoire de McGill et de la bâtisse qui l'abritait et la photo des étudiants de McLeod. On y trouve aussi un manuscrit de J.-F. Gaultier.
La matière est abondante. J'ai lu de nombreuses sections et chacune d'entre elle est des plus détaillée et contient de nombreuses anecdotes, faits, exemples qui viennent documenter les sujets traités et le tout, relié à des faits historiques. La contribution du Dr J.-F. Gaultier au début de la colonie est impressionnante et l'ouvrage de Mme. Slonosky a le grand mérite de la faire connaître, tout comme celle de Smallwood et de McCord et de nombreux autres aussi. Elle nous fait aussi connaître la question des changements climatiques qui préoccupaient ces pionniers, soit "l'amélioration" du climat suite à la déforestation. J'ignorais aussi l'intérêt et la contribution de Smallwood à la question médicale (propagation des maladies) et l'importance que ce sujet avait à cet époque. Les derniers chapitres sur les observations dérivées et la description de saisons particulières fourmillent d'informations (indicateurs agronomiques, dates de gel, arrivée des bateaux) et de détails qui remontent à la colonie. J'imagine que le travail nécessaire à leur réalisation fut colossal. L'idée d'ajouter une section sur les biographies est excellente et permet de situer la contribution des personnages dans un contexte scientifique et historique plus global.
J'ai senti comment, tout le long de son œuvre, l'auteure est reconnaissante envers tous ceux qui nous ont précédé et dont les efforts ont contribué à bâtir la météorologie canadienne d'aujourd'hui. La suite de cette épopée serait la bienvenue.
Merci Mme Slonosky de nous avoir fait cadeau de ce magnifique volume.
More like this:
American Meteorological Society, Canadian Meteorology, Richard Leduc, Victoria Slonosky