Collaborating to Support Canadian Resiliency at CatIQ Connect
-By Caroline Floyd-
Hurricane Fiona, flooding in British Columbia, massive hailstorms in Calgary – catastrophic events have increasingly captured Canadian headlines in recent years. Insured losses to natural disasters in Canada now routinely exceed CAD 2 billion each year, and the frequency and severity of wide-reaching disasters is expected to increase amid a shifting climate.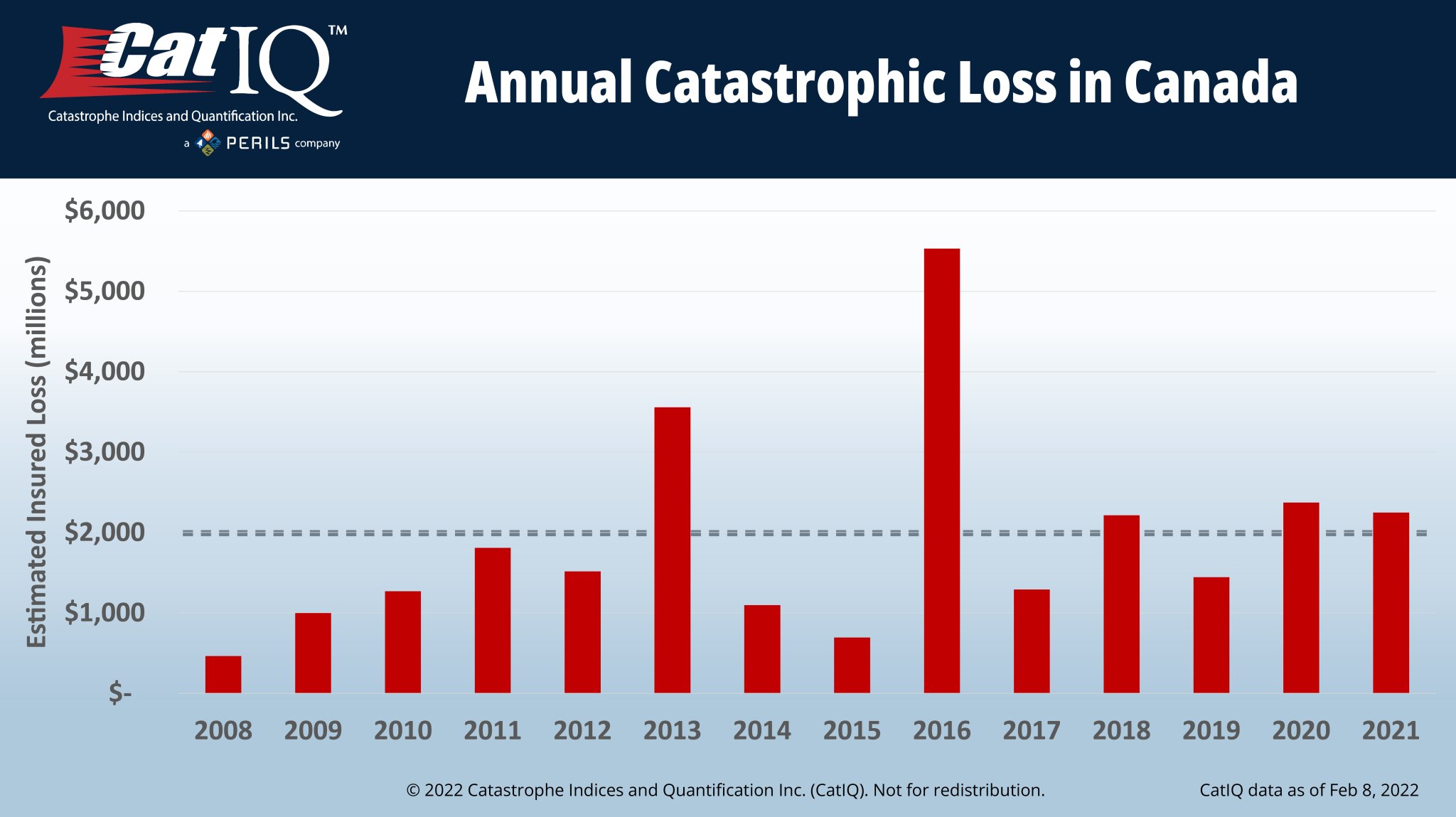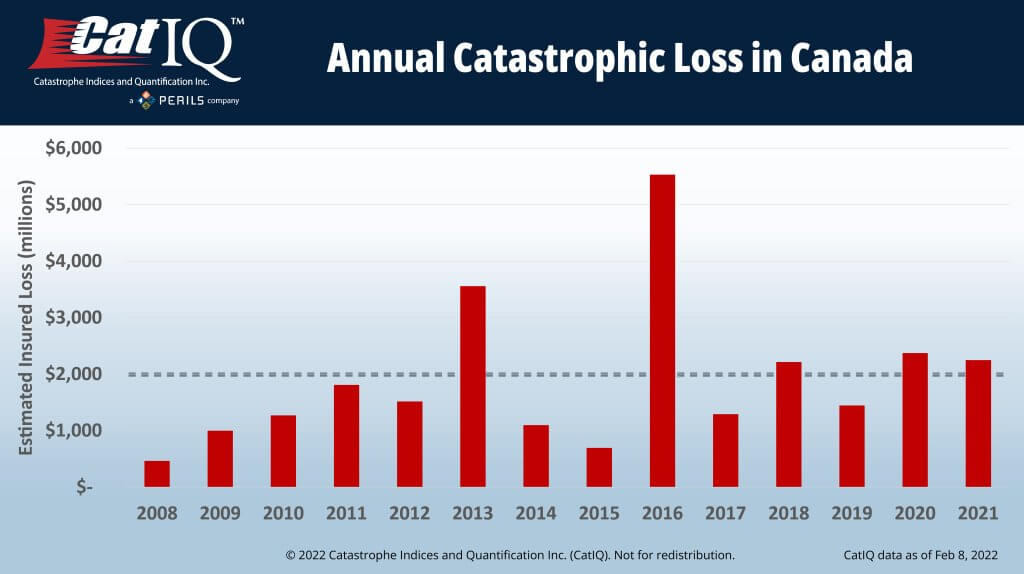 Long-term community resiliency is a complex problem, and one that requires cross-sector cooperation on a grand scale. The public relies on the government and private industries, like insurance and restoration, to work together before, during, and after catastrophic events. And, in turn, industry and government rely on academia to understand the scope of physical and social challenges posed by natural and human-caused disasters. In concert, the sectors must work together to develop proactive solutions and plans for action that prevent loss, increase risk awareness, and provide stability and security for Canadians.
In addition to its role as Canada's loss and exposure indices provider, Catastrophe Indices and Quantification Inc. (CatIQ), in partnership with MSA Research, organizes a conference to foster such collaboration in Canada.
CatIQ Connect – Canada's Catastrophe Conference – hosts content-driven discussions to foster collaboration before, during, and after catastrophic events. Overall themes include preparedness and resiliency, available tools, and impacted stakeholders and policymakers working together for the great good of all Canadians.
Who comes to CatIQ Connect?
Academics, Researchers, and Students in physical and social sciences
Government representatives
Insurance/Reinsurance professionals
Emergency Managers
Engineers
Risk Consultants & Risk Managers
Urban Planners
Since our inaugural event in 2016, topics presented at CatIQ Connect have run the gamut of risk management and resilience issues, from the financial implications of climate change adaptation to the availability of natural hazard data for Canada, to risk communication strategies and decision science. A sample of panel discussions from our 2020 event include: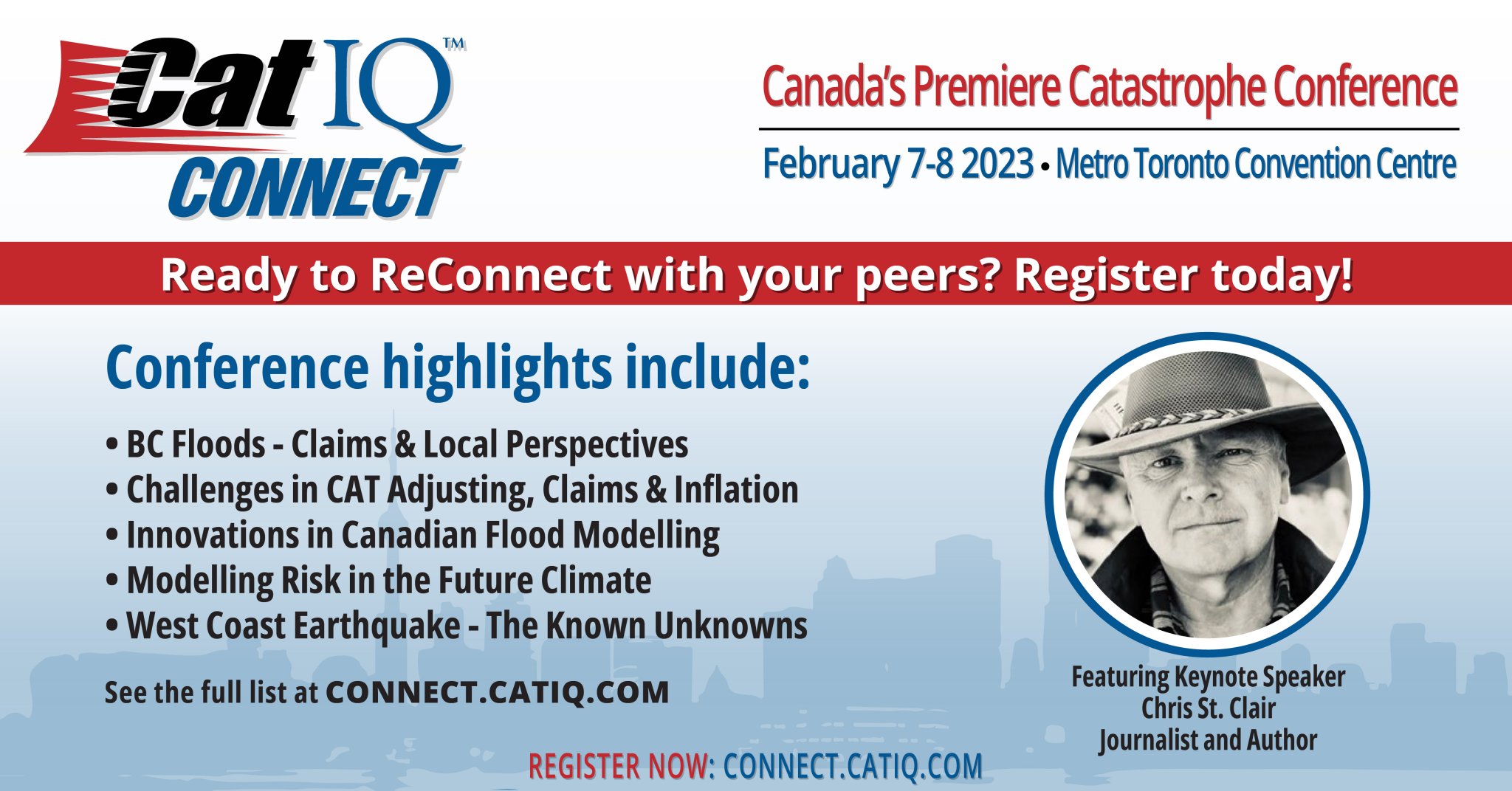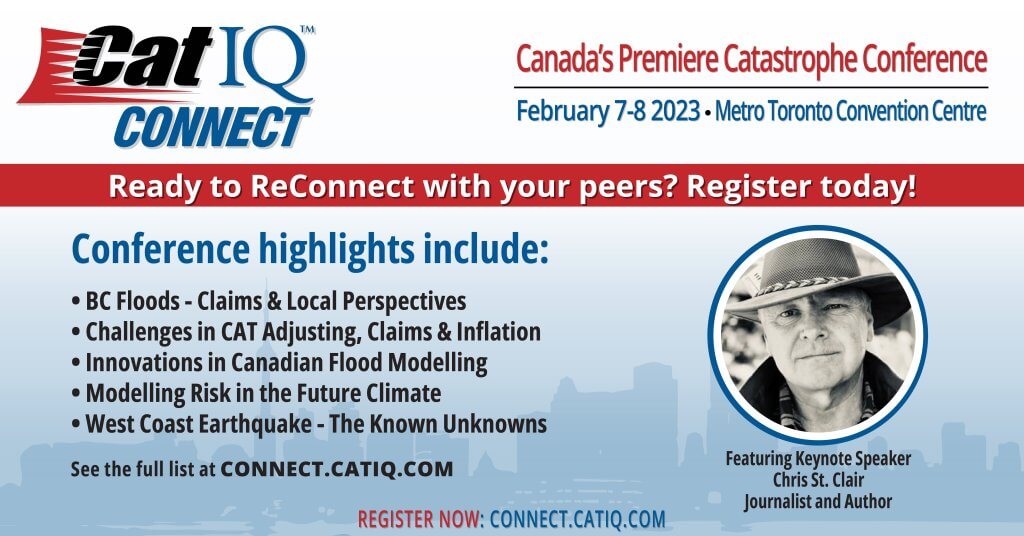 At our upcoming event, taking place February 7 and 8 at the Metro Toronto Convention Centre, CatIQ Connect returns in person for the first time since February 2020, welcoming back old friends and greeting new attendees as we #ReConnect the catastrophe community.
What kinds of discussions are planned for CatIQ Connect 2023?
2022 Catastrophes in Review
BC Floods – Local and Insurance Perspectives
Indigenous Communities and Insurance
Innovations in Canadian Flood Modelling
Managed Retreat
Meteorology 101 – Atmospheric Rivers, Derechos, and Other Scary Things
Modelling Risk in the Future Climate
The Lytton Recovery
West Coast Earthquake – The Known Unknowns
The full agenda is available online at connect.catiq.com.
In addition, we're pleased to welcome members of Canada's talented post-graduate community via our Student Delegate Program. Each year, CatIQ Connect welcomes representatives from universities across the country to give presentations on their work relating to catastrophes, providing them with important networking opportunities with those who will benefit from their research efforts.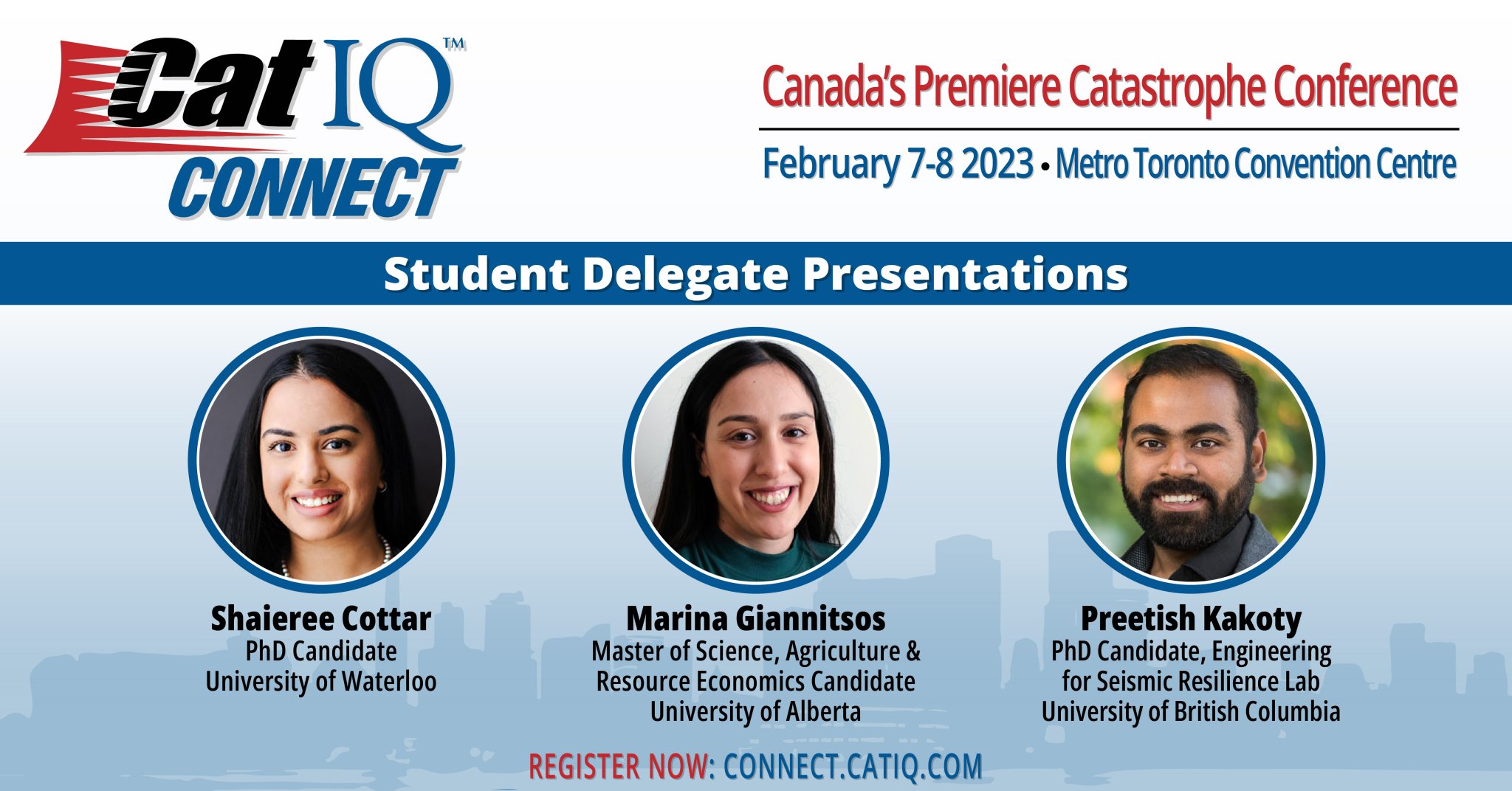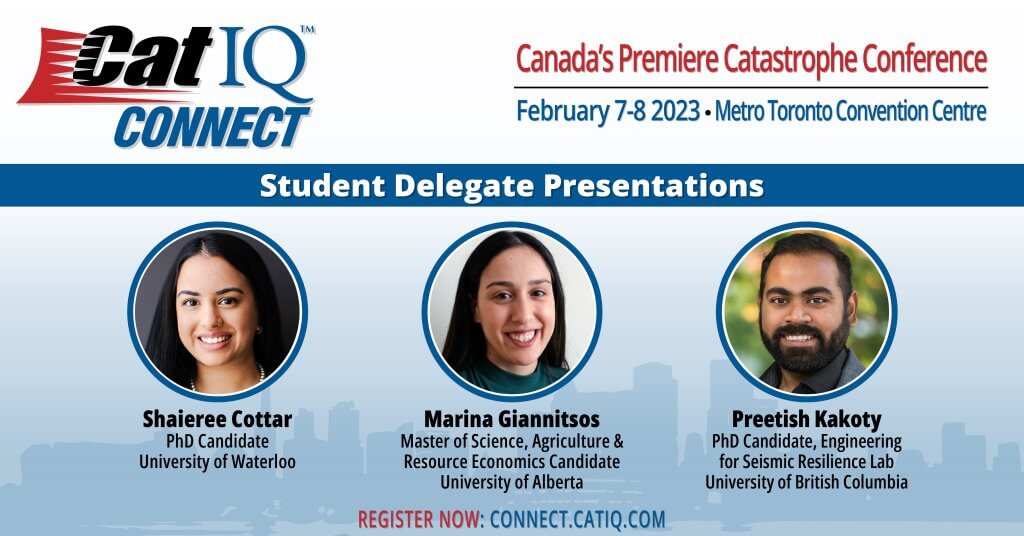 If you have questions about CatIQ Connect or you're interested in joining your peers at the event, visit connect.catiq.com for more information, or contact Caroline Floyd at caroline.floyd[at]catiq.com.
---
Caroline Floyd (she/her) has a background in operational meteorology and science communication, with more than 20 years of experience in forecasting and talking about the weirdest things weather has to offer.  She joined CatIQ in 2020 and currently serves as Director.
Twitter: @CatIQ_Inc
caroline floyd, Catastrophe Indices and Quantification Inc, CatIQ Connect, Conference, natural disasters, resiliency